---
Hot Chips, Mad Fish and Other Tales
HOT CHIPS, MAD FISH and OTHER TALES contain five funny, decodable stories brought to life by adorable and humorous illustrations. These stories only include short vowel words (aka consonant-vowel-consonant words or cvc words), the first concept taught in all Orton Gillingham programs. Beginner readers and struggling readers will love this book because they will be able to sound out the cvc words! Pat and his friends will capture your heart with laugh-out-loud delight!
---
Hot Chips in the News!
Here are some clips of Hot Chips being featured on the news! It is so important to spread awareness about decodable books and share why decodable and dyslexia friendly books belong on every bookshelves in school libraries and bookstores!For news inquiries, please fill out the contact form below.
---
---
What is Decoding and Why Do We Need Decodable Books?
Decoding text is the ability to identify the individual sounds made by each letter (or group of letters) in a word, and then blend them back together to form a full word. Magic happens when children learn to
break the code and they learn that /b/… /a/… /g/ says bag. The connection from individual letter sounds to actual words will make your child's eyes light up because they can read the words!Decodable books are important because you can match the skills that your child has learned, and they can practice sounding out words over and over again. Eventually, the child will master each of the sounds and they can then move on to the next skill. Practice and more practice are essential components of learning to read. A strong base in decoding text is the first step in reading.Both beginner readers and struggling readers will need decodable books to learn how to read. Supporting systematic phonics instruction with decodable texts provides the opportunity for children to read independently. Familiarizing students with the six basic syllable types of the English language and providing ample opportunities to recognize and apply these syllable types to their reading, leads to
reading proficiency.
---
About Sue
Sue Marasciulo is a retired elementary special education teacher with a certification in an Orton Gillingham approved program (Wilson Reading System). Her passion is helping children with dyslexia to feel more confident in their abilities and gifts. Throughout her many years of teaching, she was inspired by her students' fortitude, adaptability to learn, and how they excelled in many areas.Now that Sue is retired, she has more time to focus on her passion for writing decodable books that will help beginner readers and those with dyslexia become independent readers. She enjoys hearing about how so many children are learning to feel successful with decodable books!Sue lives in South Carolina with her husband, Al and their two rescued dogs, Scrappy Doo and Sunny. Sue has three sons, Matt, Greg and J.P. Her middle son, Greg is a professional wrestler with AEW and every now and again, Sue makes a brief appearance on the show with her famous van!
---
Meet the Author!
I am now available for author in person and digital meet & greets!Please contact me at sueshulo@yahoo.com or fill out the contact form below to arrange a Google Meet or Zoom "Meet the Author" with your class.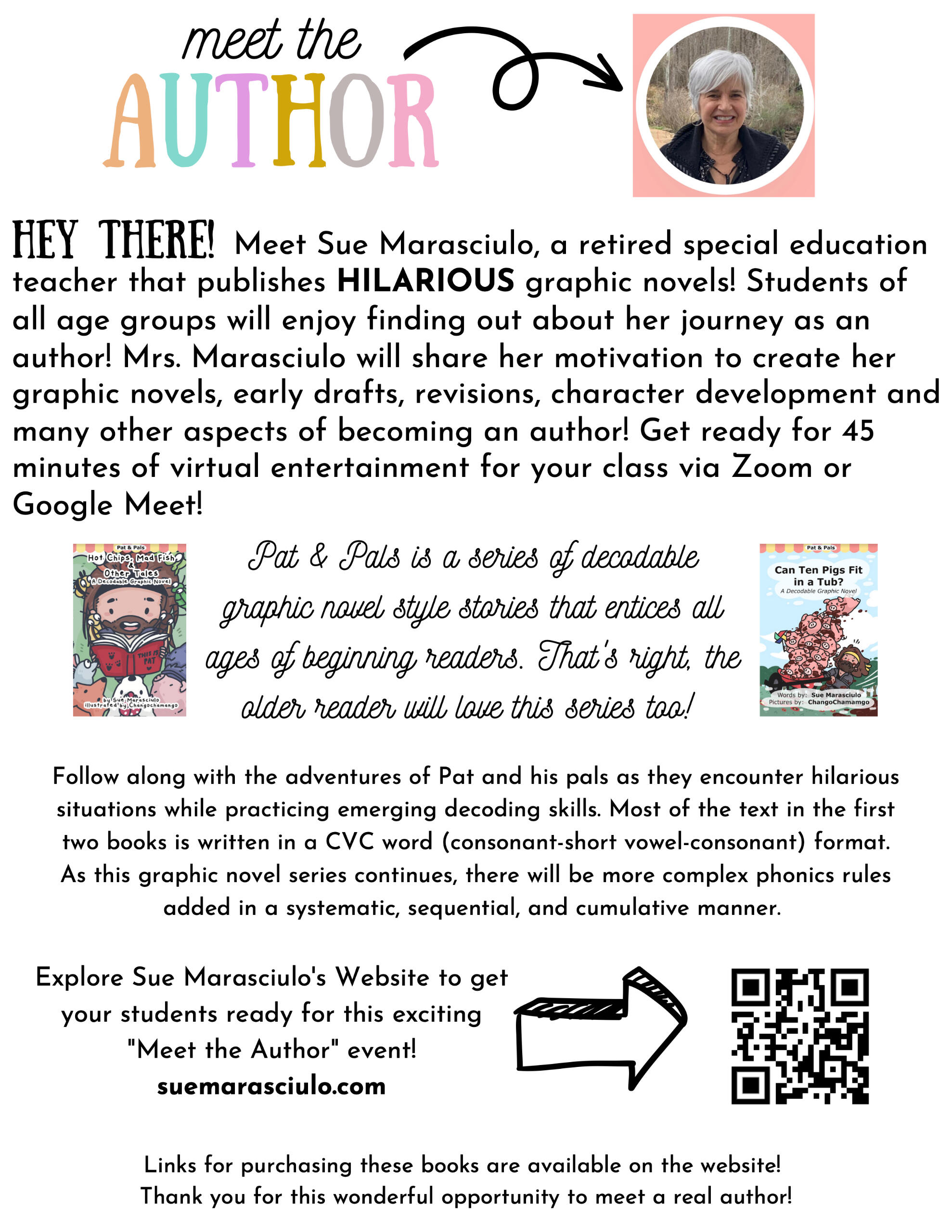 ---
Get In Touch!
Or send an email to sueshulo@yahoo.com
---